PRECIOUS METAL REFINING SYSTEMS FOR E-WASTE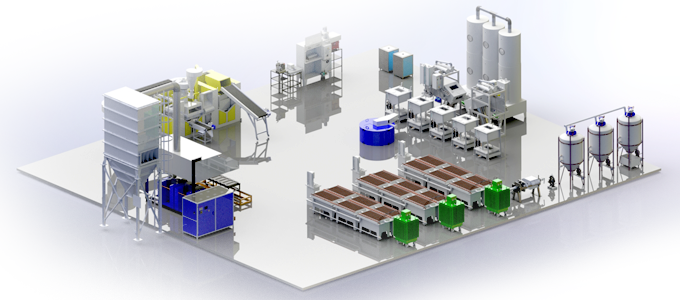 20th centuries one of most important threat is hazardous electronic wastes. Emak specially developed high gain values using physical and chemical method which can Project variable capacities with turn-key facilities
Our Project Team preparing feasibilities, 3D layout modeling for turn-key E-Waste Recycling plants.
Advantages;



Nature friendly


Low-Cost operating


No loss process Know-How


High concentration and efficiency


Training and consultancy
Our patented system is working in more than 60 countries
CRUSHERS & SEPARATORS

Specially designed to crush and separate computer parts and all kinds of electronic waste.
Can break regular PCB"s down to 1mm. The grain size is adjustable.

The Separation Systems specify the grinded grains according to their specific weight and prepares the material for recycling. Separates the plastic, Ferrous, and Non-Ferrous Metals in exact order from the scrap.

The System has all precautions for escaping precious metals. EMAK can produce machineries from 500Kg/Day to 1.000Kg/hour for PCB's.

COPPER ENRICHMENT

After mechanical separation, Non-Ferrous Metals fed into the Copper Enrichment System. The metals Lead and Tin are separated here.

Other precious metals like Copper, Gold, Silver and PGM's casted as bars for selling or anodes for Electrolysis process depending on our customers needs.

The Copper Enrichment System capacities starts from 200Kg/Day to 10.000Kg and above.
EMAK can provide all necessary systems including Environmental Treatments for the system. The Copper Pre-Treatment System can work with Fuel Oil, Natural Gas or Electricity.

ANODE CASTING

After Copper Enrichment System, separated metals like Copper, Gold, Silver and PGM's can be casted as bars for selling or anodes for Electrolysis process depending on our customers needs.

EMAK can provide systems with a suitable capacity with Copper Enrichment and all necessary systems including fume treatments

COPPER ELECTROLYSIS

Copper Electrolysis Systems are used for recovering high purity copper and precious metal slime, which comes from the Copper Enrichment and Anode Casting System.

The anodes, which are produced by anode preparation system, are hanged into the Electrolysis cells.
After the process , high purity copper is plated on the cathodes.

Automatic rectifiers supply stable and safe electricity for chemical reaction. Also the system needs stable temperature and flow. At this point the heating and circulating systems supply these necessities. EMAK can provide capacities for daily 200kg and above. Depending on customers' needs.

PRECIOUS METAL RECOVERY SYSTEM FROM E-WASTE

With this system you can recover your precious metals in-house from your e-waste after proper treatment.

Turn-Key Installation
Including Training and Know-How
Environmental Friendly Operation
Easy to Use
Build in Sedimentation and Fume Treatment Fast Refining & Recycling Operation
Global Warranty and Service
Low Energy and Operation Costs

TURN-KEY FIRE ASSAY ANALYSIS

The oldest and most used method to determine metal's percentage of purity is the Fire Assay (Cupellation) method. This method gives greater precision among all other methods.

With Fire Assay Analysis Laboratory, EMAK is giving all its Experiences and Know – How for Refining Precious Metal to the customers. Laboratory gives the opportunity for checking the content of materials/metals before and after processing.

WASTE WATER NEUTRALIZATION

Copper Electrolysis and Recovery Processes uses acids for chemical reactions.

After operation all waste water is transferred into the Neutralization System. The remaining metal inside the waste water is recovered and rest of the liquid is neutralized to dischargeable pH7 level.

Waste Water Neutralization System is the safety point of the complete system. Because of the metal sedimentation there will be no precious metal loss with liquids. Operators can check the system efficiency in Waste Water Neutralization System.